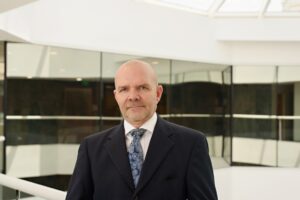 Paul A. Harshaw
Email: paul.harshaw@canterburylaw.bm
Paul Harshaw has 25 years of experience at the Bar and was the founder of his former law firm, Harshaw & Co.
He practises in international and commercial matters, including letters of request for judicial assistance from foreign courts, enforcing foreign judgments in Bermuda, advising and representing parties (including liquidators and trustees) in bankruptcy and in cross-border insolvency proceedings, bringing and defending domestic actions involving Bermuda residents, partnerships, companies, trusts and trustees and providing advice and representation in employment matters, company, trust, personal insolvency, professional negligence and personal injury actions.
In addition to advocacy, Mr. Harshaw has chaired Boards of Inquiry under Bermuda's Human Rights Act and has lectured on Bermuda's Proceeds of Crime and Anti-Money Laundering legislation and the tension between that legislation and the law relating to confidentiality and the constitutionally protected right of legal professional privilege in Bermuda.
Until recently R v. Hoskins [2003] Bda LR 25 was the only reported decision in Bermuda on the powers conferred by the Proceeds of Crime Act 1997 to obtain information from a third party (law firm) by way of Production Order. Mr. Harshaw acted for the third-party law firm. In March 2020 the Supreme Court published its judgment in Medlands v. Commissioner of BPS et al [2020] SC (Bda) 20 Civ. in which Mr. Harshaw appeared as junior counsel to Mr. David Brownbill QC and Mr. Jerome Lynch QC in the successful applications of the Interested Party. That case is now the leading authority on the provisions of the Proceeds of Crime Act 1997 relating to third-party reviewers of material that may be subject to legal professional privilege and the provision of copies of materialseized to the person from who the material was seized.
Whitter v. DPP [2002] Bda LR 33 remains the leading authority in Bermuda on the ability of the Crown to bring proceedings for a summary offence outside of the usual 6 month time period and the ability of the Director of Public Prosecutions to delegate his authority. Mr.
Harshaw acted for the successful appellant, Ms Whitter, in that case.
In Re Refco Capital Markets, Ltd and Refco Global Finance Limited [2006] Bda LR 94 Mr. Harshaw successfully argued on behalf of the joint provisional liquidators of Refco Capital Markets, Ltd. and Refco Global Finance Limited in Bermuda that the assessment (or "taxation" as it is called) of their costs was a matter for the Supreme Court of Bermuda, notwithstanding that all were agreed that US proceedings represented the centre of main interest.
In the conjoined applications in Warren v. Harvey ; Thomson v. Thomson and Colonial Insurance Company Limited ; Argus Insurance v. Somers Isles Insurance Company Ltd. [2015] Bda LR 59 Mr. Harshaw successfully argued, on the basis of expert economic and actuarial evidence, that the "discount rate" applied to damages for future losses in personal injury and clinical negligence cases should not be between 4% and 5% as had been the case in Bermuda since 1993, but should be variable depending on where the injured party resided (whether in Bermuda or elsewhere) and also that the "discount rate" was now actually a negative number which increased, rather than decreased, the sum payable to an injured party. Mr. Harshaw further successfully argued that a different "discount rate" should apply to different heads of claim on the basis that price inflation and wage inflation did not always march hand-in-hand (whether in Bermuda or the UK). The decision of the Chief Justice in that case was upheld on appeal by the Court of Appeal for Bermuda in which Mr. Harshaw appeared with David Wescott QC. The appeal is reported as Colonial Insurance Company Ltd. v. Thomson [2016] Bda LR 41.
Mr. Harshaw obtained his LLB with Honours at the University of Buckingham (England) in 1995 and was called to the Bar of England and Wales by the Honourable Society of Lincoln's Inn in 1997 and the Bermuda Bar in 1998.