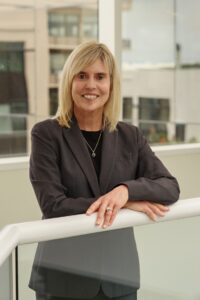 Juliana M. Snelling
Email: jsnelling@canterburylaw.bm
Juliana Snelling (born Horseman), barrister and attorney, is a Rhodes Scholar and Director of Canterbury Law Ltd., member of the Bar of England & Wales (1994), Law Society of England & Wales (2001) and the Bermuda Bar (1995).  She has a Certificate in Company Direction from the UK Council of the Institute of Directors (2021).
Ms. Snelling has 27 years of experience in advising local and multi-national companies, public authorities and high-level business executives on Bermuda employment, labour, immigration and human rights laws.  She also advises in civil matters generally, including contract and tort matters, landlord tenant, defamation and personal injury matters.
Ms. Snelling served for 5 years as Counsel on the Bermuda Medical Council, advising that governing medical body on legal issues affecting medical practitioners to help maintain high standards of medical practice on the Island. She served for 3 years as Chair of Bermuda's Land Valuation Appeal Tribunal and on the Treatment of Offenders' Board in the Island's prisons. She also served for 6 years on the Professional Conduct Committee of the Bermuda Bar Association. 
In 2012, Ms. Snelling co-founded the boutique litigation and employment advisory firm Canterbury Law Limited with fellow director Mr. Paul Harshaw. Together they have mentored many young Bermudians in the field of law and have called 4 women to the Bermuda Bar.  
Canterbury Law is Bermuda's exclusive Employment Law Alliance (ela.law) partner, giving the firm access to the world's largest network of labour and employment law experts. Multinational companies choose ELA lawyers such as Canterbury Law's attorneys to champion their employment law challenges with fast, efficient and responsive service tailored to meet the unique needs of their global workforce. With more than 3000 lawyers in 100-plus countries, including every state in the United States, the ELA's employment attorneys represent the best legal minds in the world who not only meet the alliance's stringent eligibility criteria but who have succeeded in making it through our rigorous vetting process. The ELA is a top-ranked Chambers and Partners Elite Global Network.
Ms. Snelling's education includes:
Graduate, Inns of Court School of Law (Outstanding Designation), London, England (1993-1994)

B.A. (Jurisprudence), St. John's College, Oxford University (First Degree, Rhodes Scholar), England (1991-1993)

UCLA School of Law, California (1990-1991)

B.A. (History), Stanford University, California (Phi Beta Kappa Hons.) (1985-1989)

L'Institut d'Etudes Politiques, Paris, France (1986-1987)
The 2022 edition of Who's Who Legal Labour & Employment wrote:
"I highly rate her punctuality. Her work product is consistently exceptional."
The 2021 edition of Who's Who Legal: Labour, Employment & Benefits wrote:
"Juliana Snelling is lauded as a very professional, dependable and efficient lawyer who always exceeds requirements and expectations." 
The 2020 edition of Who's Who Legal: Labour, Employment & Benefits wrote:
"Juliana Snelling is an exquisite lawyer with extensive experience in complex workplace disputes." 
As published in Bermuda's daily newspaper The Royal Gazette in 2019:
"Ms. Snelling of Canterbury Law Limited has been nominated as one of the leading practitioners in her field of employment and labour law and was named in the Who's Who Legal: Labour, Employments and Benefits 2019 publication.
The 2018 edition of Who's Who Legal Labour & Employment wrote:
"Juliana Snelling stands apart as the top labour and employment lawyer in Bermuda, according to our research, thanks to her comprehensive understanding of the area."
In 2012 and 2015 Ms. Snelling won "Best of Bermuda Awards" in The Bermudian magazine for being Bermuda's "Most Tenacious Lawyer" and for being the "go to" lawyer for employment/ immigration advice. 
In 2011 she was recognized by the Bermuda Government as one of the 100 Women honorees, an award that highlights the achievements of 100 women in Bermuda who have had a positive impact on the Island of Bermuda in the business sector.
She is the author of the Bermuda Chapter of Carter-Ruck on Libel and Privacy (6th ed. 2010), Reed Elsevier (UK) Ltd. and author of the Bermuda Chapter of The Employment Law Review (8th-12th eds. (2017-2021), Law Research Business Ltd. (UK).
When not lawyering, Ms. Snelling, through Canterbury Law's support resources, founded and continues to lead two community-action initiatives:
The Grateful Bread (2017), a group of volunteers who donates clothes and household goods to the less fortunate in Bermuda each quarter at a social celebration, bringing together residents from all racial and social backgrounds to help heal divisions in society; and

SPS.bm (Support Public Schools, Bermuda) whose mission is to garner the private sector's support to equip public school students with the instructional resources they need for a better-quality education. In 2019 SPS.bm was selected by

The Bermudian

 magazine as the winner of their Public and Service Award in the category of Company Community Project.