Top Ranked Global Chambers 2023 Award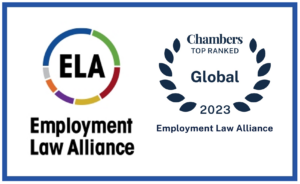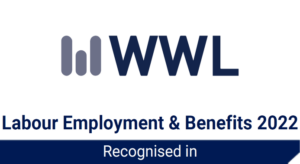 The Chambers Global Guide ranks the top lawyers and law firms in over 200 jurisdictions across the world. Rankings are based on the in-depth research and analysis of leading legal professionals by the Chambers Global's team of researchers.
Bermudian Magazine's Best of Bermuda Awards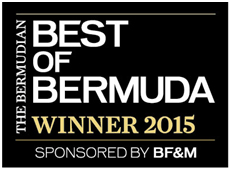 Most Tenacious Lawyer Award
Juliana Snelling
Called to the Bermuda bar in 1995, lawyer Juliana Snelling has the experience and tenacity to tackle the most difficult cases of employment law (her area of expertise), as well as general civil litigation. So if you are disputing an insurance or property claim, dealing with a serious human rights issue or have a personal injury case or a landlord stealing from you, our judges recommend Snelling to handle your case.
https://www.royalgazette.com/local-business/business/article/20211025/tenacious-lawyer-listed-in-whos-who-legal/
https://www.royalgazette.com/other/news/article/20190926/snelling-named-in-whos-who-legal/
http://www.royalgazette.com/news/article/20180908/snelling-named-as-top-lawyer
http://www.thebermudian.com/awards/best-of-bermuda-awards/2015/1634-people-places
(26 Victoria Street, tel: 296-8444, www.canterburylaw.bm)
The Royal Gazette
SEPTEMBER 10, 2014
Corporation INTL Global Award – Employment Law Firm of 2014 in Bermuda – Canterbury Law Limited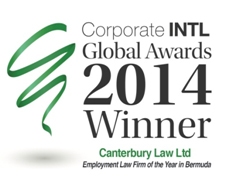 Canterbury Law Limited is thrilled to have been selected as the winner of the 2014 Corporate INTL (UK-based) Magazine Global Award for 'Employment Law Firm of the Year in Bermuda'.
In announcing the Awards in their commemorative publication "Global Awards 2014", with a circulation of over 70,000 individuals globally and a database of over 1 million business leaders,  Corporate INTL states:
 "We have been running our awards for the last six years, and are proud to present another round of awards based on our comprehensive research process.
There is regional and practice exclusivity for each category, and so a Global Award is a significant accolade for each entrant within the publication. The inclusions themselves represent a diverse cross section of lawyers and law firms, financial advisers, as well as a large array of other-industry experts and consultants.
Since 2005 Corporate INTL has been leading the way in connecting business leaders, financiers and advisers around the world.  We are truly the number one business magazine and adviser portal worldwide."
 Says Director of Canterbury Law, Ms. Juliana Snelling,
 "Needless to say, we are ecstatic to have received this recognition from such an international organisation in our third year of business.  We believe this is testament to our constant drive to produce high quality advice in an efficient, personal and affordable way.  Our total complement of 7 Bermudian employees (including the two Directors) works tirelessly to make our clients know and feel that they are special, cared about, and looked after in terms of the legal problems and stress they are suffering.
Winning this Award in the field of employment law is also especially rewarding, given that employment/labour is my particular niche area of law that I very much enjoy practising.  Whilst our clients enjoy the advantages that come with us being a small, niche boutique firm, at the same time we are able to offer them the massive benefits that come from Canterbury being the exclusive Bermuda member of the international Employment Law Alliance which provides us with immediate and personal access to employment law experts in 135 countries, all 50 U.S. states, and every Canadian province, thereby allowing the firm to provide clients having a multi-national legal problemwith seamless and cost-effective advice worldwide"
 The Directors are very pleased to have recently welcomed on board the firm's new Associate Attorney, Ms. Alsha Wilson, who completed her pupillage training at the firm and was called to the Bermuda Bar in December of 2013.
And earlier this year Canterbury Law hired law graduate and legal researcher Mr. Husayn Symonds who provides excellent support to the Directors in the myriad of civil disputes and advisory matters that they take on, whether it be human rights, judicial review, insolvency, property, contract and personal injury disputes, landlord tenant, professional  negligence, debt collection, etc.
The firm also celebrated its expansion by moving to a larger office in March of this year to the Third Floor of the Swan Building on Victoria Street, facing the beautiful Anglican Cathedral which Ms. Snelling jokes "keeps us lawyers honest".
The Firm celebrates its success by giving to various local charities and by regularly participating in the free legal advice offered at the Center for Legal Advice on Angle Street.
In September 2014 the firm celebrated its Award by making a $1000 donation each to the Hands of Love Ministry's Back to School uniform donation drive for needy schoolchildren and to the Centre Against Abuse in an effort to support their drive to re-open the shelter that has provided safe housing for victims of domestic abuse for years but was forced to close last week due to a reduction in Government funding and reduced charitable giving.
The Royal Gazette
MARCH 12, 2013
As litigation and employment cases grow, Canterbury Law adds staff
Only in business a year, Canterbury Law has added several staff including a Bermudian law pupil as the firm sees its employment and insolvency practice grow amid the economic downturn.
As director Juliana Snelling put it: "Board rooms seem restless at the moment."
Ms Snelling and the firm's other director Paul Harshaw said the economy is also causing fierce competition among Bermudian law graduates, who once had their pick of firms.
"The firm is delighted to have defied the economic odds by hiring several Bermudians over the past year including executive assistants, an administrative assistant and most recently, Bermudian law pupil, Ms Alsha Wilson," Ms Snelling said.
Ms Wilson earned her BA (Hons) in law from Carleton University in Canada, with a concentration on business law and a minor in economics. She then obtained her LLB degree in 2010 at Kent University, after completing her first year of the Kent programme at the Bermuda College. In 2011 she graduated from the College of Law, London-Bloomsbury, with a Post-Graduate Diploma in Legal Practice.
"We were very pleased with the combination of Alsha's obvious legal acumen and highly motivated attitude," Ms Snelling said. "We initially took her on for only a month and quickly came to realise the added value that she brought to the firm.
"I asked her what she was planning to do after her month came to end and she really had no legal doors open to her. That seemed tragic given her legal talent and what she had to offer the Bermudian marketplace. We therefore took her on for a year's pupillage training and we have never looked back, benefiting every day from her hard work ethic and positive attitude."
Ms Snelling said sadly in these times there are many Bermudian law graduates out there who are finding "there is no room at the inn".
The Bar Association is doing its best to encourage law firms to do their civic duty and take on pupils at this difficult time, as otherwise their long legal education is for naught, she said.
The Government does offer a payroll tax break for pupils on a training scheme as an incentive to take on pupils and law firms can benefit by billing for their pupil's quality work.
Mr Harshaw added: "Gone are the days when Bermudian law graduates have their pick of law firms; the competition is fierce. Would-be lawyers need to shed any sense of an 'air of entitlement attitude' and show a willingness to engage in hard work for less money.
"When Juliana and I joined forces last year we were of the same mind in relation to our business model. Bermuda was in the fourth year of economic recession. Both of us were cautious about growing too quickly. Alsha came to us for work experience in November. We were not expecting to offer any pupillages in 2012, but in the month that Alsha was with us for work experience, we agreed that Alsha was too good to let go. From my perspective, Alsha possessed a combination of legal analysis and insight tempered by an economic and commercial reality not often seen in young lawyers."
Ms Wilson said her pupillage with Canterbury was proving to be invaluable.
" … From client meetings and lawyers' negotiations, to court and tribunal hearings, Ms Snelling and Mr Harshaw have continuously exposed me to the legal atmosphere of Bermuda without holding back. No two days have been the same so far, and every day I look forward to going to work wondering what the legal day will bring, whether it's learning about employment, labour, immigration, human rights, contract, insolvency and other matters, drafting correspondence and pleadings, interviewing clients, researching case law and attending site visits.
"Involvement in the Bermuda Community has also been a part of my pupillage, from observing public speaking on legal topics, to career day talks with high school students, attending the Legal Advice Centre at the 'back of town' to observe Ms Snelling providing free advice to a myriad of people who cannot afford to hire a lawyer, and more.
"I very much appreciate Mr Harshaw and Ms Snelling providing me with the opportunity to be employed with the firm as a pupil in these difficult economic times, and for continuing to provide me with such a rewarding experience."
Canterbury has also provided "mini-pupillage" experiences (ranging from two weeks to a month) to law school students wishing to gain real-life legal experience in their holiday breaks. Bermudian law graduate Roger Moniz pupilled with the firm last summer.
"I was exposed to various matters during my time at the firm, which ranged from civil to commercial litigation," he said.
"Even though Ms Snelling and Mr Harshaw have very active employment and insolvency practices respectively, they cover much more than that. On any given day I found myself working on employment matters, public (constitutional) issues, contentious property issues, and high-level company disputes. Outside of being interesting, this exposure was beneficial because it assisted in my search for the elusive area of future specialisation. After all, this is one of the main reasons for being a legal intern!"
Canterbury celebrated its first year in business on March 1. The law firm — named after Oxford University's Canterbury Quadrangle in St John's College where Ms Snelling obtained her law degree — practises in the areas of civil, commercial and trusts litigation, employment, labour and immigration, insolvency, public law, property, contract and other disputes.
One year on, the firm has a thriving litigation and employment and labour practice notwithstanding the current state of Bermuda's economy, Ms Snelling said.
"Board rooms seem restless at the moment with high-level executives feeling pushed out for seemingly bogus reasons and employees being made to feel constructively dismissed. Employers are using conduct or performance reasons, often exaggerated in some instances, in order to transition employees out without having to pay them the statutory severance or termination payments that are owed to them under their contracts. Employers have finally caught up with what hoops they have to jump through before lawfully terminating and know how to play the system.
"Having said that, employees have to appreciate that they are fortunate to have a job these days and they should be doing their very best at work to keep those jobs, in terms of both attitude and performance. We advise both sides of the legal divide in steering them through what are often highly stressful and emotional disputes, given that a job is often the mark of a person's self-worth.
"At the end of the day, the employment contract is based on the principle of mutual trust, respect and confidence between the parties and that should play itself out through the termination process in the interests of a peaceful and expeditious resolution, something good lawyers strive for in every dispute."
Ms Snelling added: "It's been a hugely fulfilling experience to create a new business with Paul from the ground up, we are six employees in total (including Paul and me) which lends itself to a true family atmosphere. Board guru Mrs Fiona Luck, a businesswoman I admire very much, said to me recently, 'Isn't it wonderful how when you are managing your own business, you can instil your own values in the business and feel good about getting up every day for work?' At Canterbury, we are all about teamwork, mutual support and encouragement, learning from our mistakes, working hard but having a good giggle along the way, and giving back to the community through reducing our fees in 'hard cases' and supporting charitable events. All of that combines to make us a happy group that will hopefully go from strength to strength."
In 2011 Ms Snelling was recognised by the Bermuda Government's Department of Human Affairs as one of the 100 Women/100 Vision honorees, an award that highlights the achievements of 100 women in Bermuda who have had a positive impact on Bermuda in the economic/ business sector. Last year she was the recipient of the Bermudian Magazine's Legal Services Award for being the judges' "go to" lawyer for employment and immigration representation.
2012 Bermudian Magazine Winner of Legal Services Award – Juliana Snelling
In December of 2012, Juliana Snelling was one of four winners of "The Bermudian" Magazine's Services Award for Legal Services for being the judges' "go to" lawyer for employment or immigration representation:
"Our judges decided that to crown the best of the best in legal services, they'd have to get specific. For corporate law, their favourite is Best of Bermuda 2012 recipient of the Tenacious Lawyer award, Marc Daniels (Charter Chambers Bermuda Ltd., Vallis Bldg., 58 Par-la-Ville Rd., Hamilton, 295-7957). Judges agreed that Juliana Snelling (Canterbury Law Ltd., Swan Building, 26 Victoria St., Hamilton, 296-8444) is the one to call for immigration or employment representation. For matters pertaining to property, our judges chose Michelle Stone (Wakefield Quin Limited, Victoria Place, 31 Victoria St., Hamilton, 494-4000). Michael Mello (Appleby Services Ltd., Canon's Court, 22 Victoria St., Hamilton, 295-1443) is the man to beat when it comes to estates, wills and trusts. Visit the link at http://www.thebermudian.com/digital-magazine"
Snelling attends ELA Conference in Vancouver – September 2012
Juliana Snelling, Director /Barrister with Canterbury Law Limited, participated in the 13th international conference of the Employment Law Alliance (ELA) on September 21st and 22nd in Vancouver. The ELA is the world's most comprehensive and prestigious network of leading employment lawyers in more than 110 countries and 300 cities across the globe and Canterbury Law is the exclusive selected Bermuda representative of the ELA. At the conference Ms. Snelling served as co-Chair on the panel for the North America & Caribbean Regional Group discussing cutting edge employment law trends across the globe. She also helped chair the panel discussion on the subject of non-competes, trade secrets and employee mobility in the insurance / offshore finance industries, subjects that often feature in her Bermuda employment practice. Clients of ELA firms also participated in the conference including Air Canada, Siemens and Target Stores. Speaking of the Alliance, Ms. Snelling stated: "The ELA is a great resource for my employer/employee clients facing a variety of complex issues in a multi-national setting as I have the ready resource of top employment lawyers around the world who stand ready to assist me in advising my clients on their own laws that may well impact on my clients' rights and obligations." For more information on the ELA visit www.canterburylaw.bm.
The Royal Gazette
FEBRUARY 13, 2012
Bermudian lawyers Juliana Snelling and Paul Harshaw are joining forces to launch a new law firm.
Ms Snelling is branching out on her own after a shake up of the legal community which saw several senior partners leave Mello Jones & Martin, including senior and founding partner Michael Mello QC and former attorney general Saul Froomkin OBE, QC.
Mr Mello said he is currently considering a number of offers of employment from other law firms and planned to be back in practice by mid-March.
He is also working on the 7th Edition of his book, The Law of Wills & Estates In Bermuda.
After 20 years with MJM, Mr Froomkin has joined ISIS Law, where he leads the firm's litigation department.
Ms Snelling resigned from MJM effective January 31 after 16 years with the firm. She was the firm's second female partner ever.
Ms Snelling, who declined to comment on her departure from MJM, said she and Mr Harshaw have decided to start a boutique litigation law firm called Canterbury Law Ltd.
Mr Harshaw is the founder of Harshaw and Co. He will become co-director of the new Canterbury Law with Ms Snelling when it commences business on March 1.
During the month of February, Ms Snelling said she will act as consultant to Harshaw & Co "in order to ensure a smooth transition of both practices into Canterbury Law".
"As a boutique litigation and employment professional law company, Canterbury Law Ltd. brings together two professionals with some 30 years of combined experience of commercial, employment/immigration and general civil litigation practice," Ms Snelling said.
"Canterbury Law will comprise a new and exciting litigation practice for those who want professionals dedicated to providing knowledgeable and practical legal advice and representation in relation to contentious commercial, general civil and employment related matters."
Ms Snelling said she and Mr Harshaw's practices complement each other in terms of their legal experience.
He has practised widely in corporate, commercial and public law, while she said she has focused on local civil litigation with a niche in employment law. Mrs Snelling has advised senior level business executives as well as local and exempted companies and major institutions on the terms of contracts of employment, restrictive covenants, and severance agreements.
Ms Snelling, who attended Oxford University as a Rhodes Scholar, also practises in most areas of civil litigation including human rights, contract and tort disputes, property disputes, defamation cases, insurance claim disputes, judicial review actions, professional negligence claims, personal injury matters, landlord tenant matters and debt actions.
Mrs. Snelling graduated in 1989 from Stanford University- where she played varsity golf- with a BA Cum Laude in History. She also attended UCLA School of Law. And in 1993, she obtained her law degree with distinction from Oxford University (St. John's College) where she was awarded the Rhodes Scholarship.
While at Oxford she studied under Dr. Mark Freeland, author of The Contract of Employment.
In addition, she serves as president of the Warwick Academy Alumni Association, president of the Bermuda branch of Stanford University Alumni, chairman of the Land Valuation Appeals Tribunal, and she volunteers at The Center in Hamilton, Bermuda providing free legal advice.
Mr. Harshaw is a former associate in the litigation and insolvency department of Conyers Dill & Pearman and a former senior associate in the litigation and insolvency department of Lynda Milligan-Whyte & Associates.
He embarked on a law career after a career in electrical engineering. He finished his law studies at the University of Buckingham in June 1995, leaving with an LLB (Hons).
In addition to advocacy, Mr Harshaw has chaired Boards of Inquiry under the Human Rights Act and has written lectures on Bermuda's Proceeds of Crime and Anti-Money Laundering legislation.
The Bermuda Sun
FEBRUARY 8, 2012
New litigation firm has niche in employment law
Lawyer Juliana Snelling and barrister Paul Harshaw form Canterbury Law
Partners: Juliana Snelling and Paul Harshaw, pictured here at the Swan Building in Hamilton, have joined forces to create Cambridge Law. *Photo by Kageaki Smith
Lawyer Juliana Snelling has signed up with a new law firm.
Ms Snelling has quit Mello, Jones and Martin — where she worked for more than 15 years — to set up Canterbury Law with barrister Paul Harshaw.
Ms Snelling said: "I'm very excited about a new partnership and a new firm — Paul's practice and mine will complement each other beautifully."
Ms Snelling, a specialist in general civil litigation with a focus on employment law, has joined forces with Mr Harshaw, who works in commercial and public law.
She said: "Canterbury is a boutique litigation firm with a niche in employment law — we're both really looking forward to a new challenge."
Ms Snelling added that employment law was a growth area in Bermuda as companies contracted in the wake of the global recession.
But she said: "It's not just about redundancy and severance, though. There are a lot of mergers in the insurance industry going on and people want to protect their existing contracts of employment."
Ms Snelling added that a small law firm in Bermuda could capitalize on conflicts of interest which affect larger practices.
She said: "We reap the benefits of conflict work — we're already seeing the benefit of that."
The new firm will officially be open for business on March 1, based in the Swan Building in Hamilton's Victoria Street.
Ms Snelling is currently acting as a consultant to Harshaw & Co. to ensure a smooth transition into the new law firm.
Ms Snelling, 44, a Rhodes Scholar and graduate of St John's College, Oxford, graduated with distinction in 1993 and was called to the bar of England & Wales the following year.
She earlier graduated with a BA in History with distinction from California's Stanford University.
She became a member of the Bermuda Bar in 1995, joining Mello, Jones and Martin in 1996. She became only the second woman partner in the firm's history in 2001.
UK business publication Corporation INTL awarded her a Global Award in Employment Law Excellence in 2010. Ms Snelling is a keen golfer, winning the Bermuda Ladies' Stroke Play Golf Championship aged just 17 and successfully competed in junior tournaments abroad. She has served for several years on the Board of Trustees for Government golf courses and founded a scholarship for young Bermudians to attend golf school abroad. She has also served on the Treatment of Offenders Board, the Tax Appeals Tribunal, the professional conduct committee of the Bermuda Bar Association and on the Warwick Academy Alumni Association.
In addition, Ms Snelling is a volunteer lawyer at The Centre in Hamilton's Angle Street and regularly takes on legal aid and pro bono cases. Mr Harshaw said: "Juliana is a very good fit with my existing practice. We complement each other in what we do. We will be able to cover for each other and support each other.
"I've been working on my own for more than three years and I'm looking forward to having another lawyer to work with.".