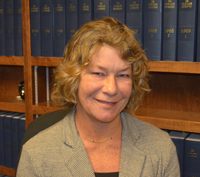 Dr. Christina Storey comes to the Law mid-way through life. After a career in academia and various entrepreneurial activities, mostly involving watersports or math, Dr. Storey started a LLB with the University of London's International Programme (online) in 2015. She expects to complete the degree in June 2016 and go onto to complete the BPTC in 2017.
Christina is a Bermudian, and a lifelong Somerset resident (and fan). She spent six years at Millfield School in the UK, where she sat her O-levels. She then transferred to Philips Exeter Academy in New Hampshire from which she graduated with high honours. Following a year of art school in Florence Italy (where she discovered a talent for colour, a lack of talent in drawing and started to become fluent in Italian) she went on to do her undergraduate degree at Harvard. Starting off as a biochemist, she changed course and graduated with highest honours with an interdisciplinary degree in Renaissance Studies. She then completed a doctorate in 18th-century British History at Oxford University, where she was a Rhodes Scholar and member of Corpus Christi College.
Christina has always loved the water and she sails, rows and dives. She also enjoys the frozen watersports of skiing, sledding and skating.
Christina is particularly fascinated by the various facets of contract law and has a deep interest in Human Rights law in all its applications. In addition she is keen to learn more about inter-jurisdictional processes, and in the interaction between UK and EU law.
Interning at Canterbury Law, with its expertise in both the arts of litigation and the specialist area of employment law, is an excellent opportunity for her to develop these interests further and to start to translate her academic skills into those of a practicing lawyer.