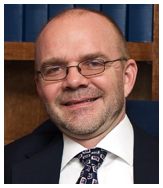 Paul A. Harshaw
Mr. Paul Harshaw has over 15 years of experience at the Bermuda Bar and was the founder /Partner of his former law firm, Harshaw & Co.
He practises in international matters, including letters of request for judicial assistance from foreign courts, enforcing foreign judgments in Bermuda, advising and representing parties (including liquidators and trustees) in bankruptcy and in major cross-border insolvency proceedings, bringing and defending domestic actions involving Bermuda residents, partnerships and companies, and providing advice and representation in company, personal insolvency and employment related proceedings.
In addition to advocacy, Mr. Harshaw has chaired Boards of Inquiry under Bermuda's Human Rights Act and has lectured on Bermuda's Proceeds of Crime and Anti-Money Laundering legislation and the tension between that legislation and the law relating to confidentiality and the constitutionally protected right of legal professional privilege in Bermuda.
R v. Hoskins [2003] Bda LR 25 is currently the only reported decision in Bermuda on the powers conferred by the Proceeds of Crime Act 1997 to obtain information from a third party (law firm) by way of Production Order (Mr. Harshaw acting for the Respondent).
Mr. Harshaw embarked on a career in law following a 15 year career in electrical engineering. He obtained his LLB with Honours at the University of Buckingham (England) in 1995 and was called to the Bar of England and Wales by the Honourable Society of Lincoln's Inn in 1997.
In 1998 Mr. Harshaw was called to the Bermuda Bar and practised commercial litigation in the litigation and insolvency department of the Bermuda-based international law firm Conyers Dill & Pearman.
Mr. Harshaw owned and managed Harshaw & Co from 2009 to 2012 and brings his acquired knowledge and resources to Canterbury Law.
Paul is the the co-author of the Bermuda chapter of The Employment Law Review (8th ed. 2017), Law Research Business Ltd. (UK).