The name Canterbury Law is inspired by the exquisite beauty and grace of one of Oxford University's most famous and historic buildings - the Canterbury Quadrangle at St. John's College built in 1631-36 by William Laud, Archbishop of Canterbury.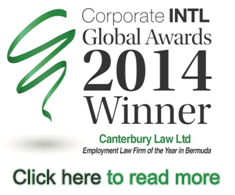 About Canterbury Law
As a boutique litigation and employment professional law firm, Canterbury Law Limited brings together two attorneys with over 30 years of combined experience at the Bermuda Bar, Ms. Juliana Snelling and Mr. Paul Harshaw. Ms. Snelling, Rhodes Scholar, has practised in general civil litigation since being called to the Bermuda Bar in 1995. She was a Partner at her former law firm for 11 years where she developed a focus niche in employment law advisory work. Mr. Harshaw, founder and partner of his own former law firm, practises in commercial and public law litigation and insolvency, and has chaired human rights Boards of Inquiry. The two practices complement each other beautifully in the form of Canterbury Law. Canterbury Law comprises a new and exciting advisory and litigation practice for those who want professionals dedicated to providing knowledgeable, personal and practical legal advice and representation in relation to contentious commercial, civil, employment, public law and related matters.