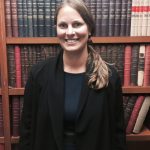 Tina S. Herrero
Tina Herrero is an Associate at Canterbury Law Ltd., and a member of the Texas Bar, the Law Society of England and Wales, and the Bermuda Bar.
Tina joined Canterbury Law Ltd. in June 2017 and practices employment and labour law and civil litigation with the firms Directors/Partners, Ms. Snelling and Mr. Harshaw.
Tina was admitted and licensed as an Attorney and Counselor at Law by the Supreme Court of Texas to practise in all courts of the State of Texas on November 1st, 2013. She was also admitted and qualified to practise as an Attorney in the District Court of the Western District of Texas on December 10th, 2015.
Following her admission to the State Bar of Texas, from February 2014 until March 2017, she practised as an attorney at a non-profit organisation and the State of Texas's sole protection and advocacy agency known as Disability Rights Texas, primarily in the area of civil rights and mental health law. From February 2014 to February 2015, she represented youth with disabilities in foster care proceedings state-wide and represented children with disabilities in administrative hearings to advocate for medically necessary equipment. From February 2015 to March 2017, she represented individuals with mental illness and/or intellectual disabilities who were institutionalised in hospitals, jails and long-term residence facilities in civil rights proceedings, namely claims of abuse, neglect and exploitation. She has represented clients in initial proceedings, appellate proceedings, and class action lawsuits.
Tina studied English law and passed the Qualified Lawyers Transfer Scheme (QLTS) examinations in 2017.
Tina was called to the Bermuda Bar in September 2017. She is also a qualified Solicitor with the Law Society of England and Wales.
Education:
B.A. (Literatures and Cultures in English), Brown University, Providence, Rhode Island (2006-2010)
J.D., The University of Texas School of Law, Austin, Texas (2010-2013)